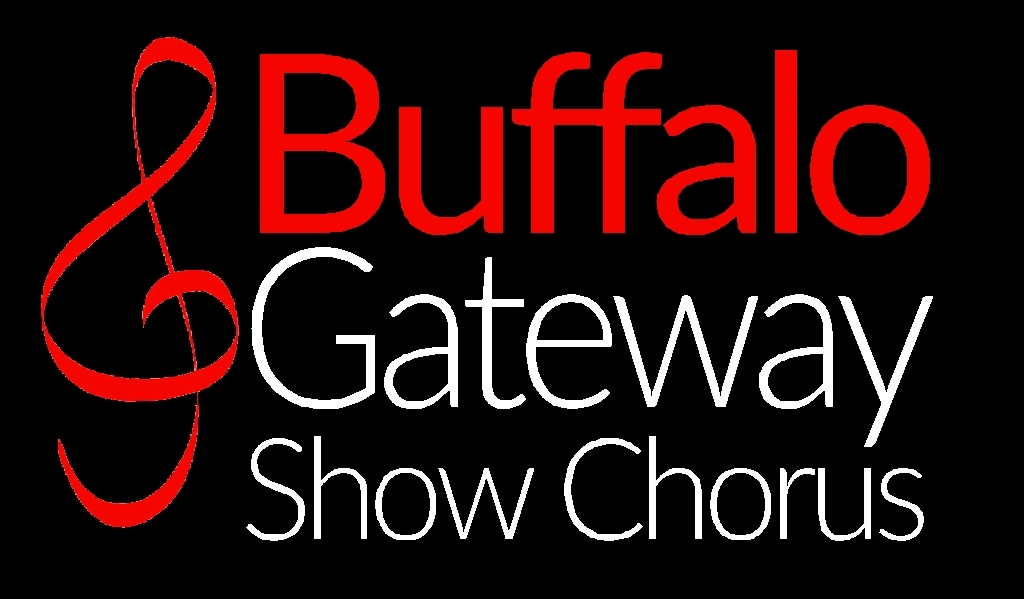 re·​sil·​ience:
an ability to recover from or adjust easily to misfortune or change, the ability to be happy, successful, etc. again after something difficult or bad has happened
per·​se·​ver·​ance:
continued effort to do or achieve something despite difficulties, failure, or opposition or even when it takes a long time
Buffalonians are no strangers to either of these traits…whether it is dealing with snow, four successive Superbowl heartbreaks or a Sweet Adeline chorus dealing with a pandemic, there just is no giving up!
Instead of letting the uncertainty and difficulties imposed by the pandemic have a negative impact on our chorus life, we have used it to thrive. Led by our amazing director, Diane Porsch, and an incredible Management Team, we were on Zoom the very next week and have become the masters of pivoting! We maintained our regular Wednesday night rehearsals and added additional "Zoomtini" sessions in the week to check in with each other and keep us connected.
And boy did our members respond! We deepened our existing bonds as we now had more time to talk online after rehearsal and during "Zoomtinis," than we typically do in person. We figured out new ways to use technology to keep us moving forward, Di and the music team kept educating us and we took the opportunity to strengthen the individual singing skills across our entire membership. The Management Team was able to address any financial concerns members may have had, we kept all our Canadian members despite a closed border, and we got everyone the technical help they needed to be able to participate virtually. We have done everything we could to ensure that each chorus member knew that they were important and would be supported-however they needed it…and it worked! For two years we consistently had an average 70-80% attendance for online rehearsals.
We kept preparing and planning to compete in Phoenix this fall. Unfortunately, the deadline for Phoenix competition fell in early January during an Omicron outbreak. With several of our members ill, or unable to commit due to pandemic uncertainty, we made the difficult decision to withdraw from the 2022 International competition.
For us, after working so hard to keep our membership intact and motivated for so long, leaving a good portion of the family behind to compete this year wasn't even an option. So once again, we re-grouped and set our sights on getting ready for the spring regional contest to be eligible for Louisville in 2023- which ironically, is where we were slated to compete in 2020.
At retreat on March 11th, 2022, Buffalo Gateway Chorus got together in person, without masks and on risers, for the first time since the start of the Pandemic- exactly two years to the day, from the last pre-Covid rehearsal. In the 730 days in between, this top 10 International chorus, has taken life's lemons and not only made lemonade- but we also made lemon pie, lemon tarts, lemon chiffon cake, lemon martinis…you name it, we've made it!
Buffalo Gateway Chorus with director Diane Porsch (front row center) and coaches Kim Vaugh (left of Di) and Cindy Hansen (right of Di)
There have been very few resignations and incredibly, we have added fifteen brand new members to our ranks! Some of whom, until recently, have only known us on Zoom and had never even heard the chorus sing live!
New Members added since the pandemic started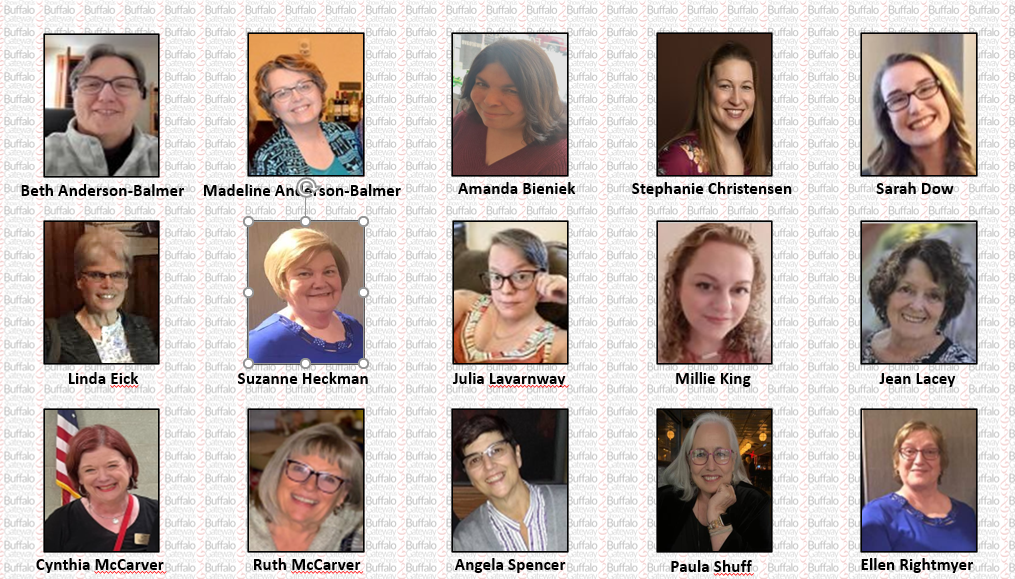 On May 14th, after a successful video contest in Region 17, Great Lakes Harmony, Buffalo Gateway earned the 1st Place Chorus Award with a score of 647 points!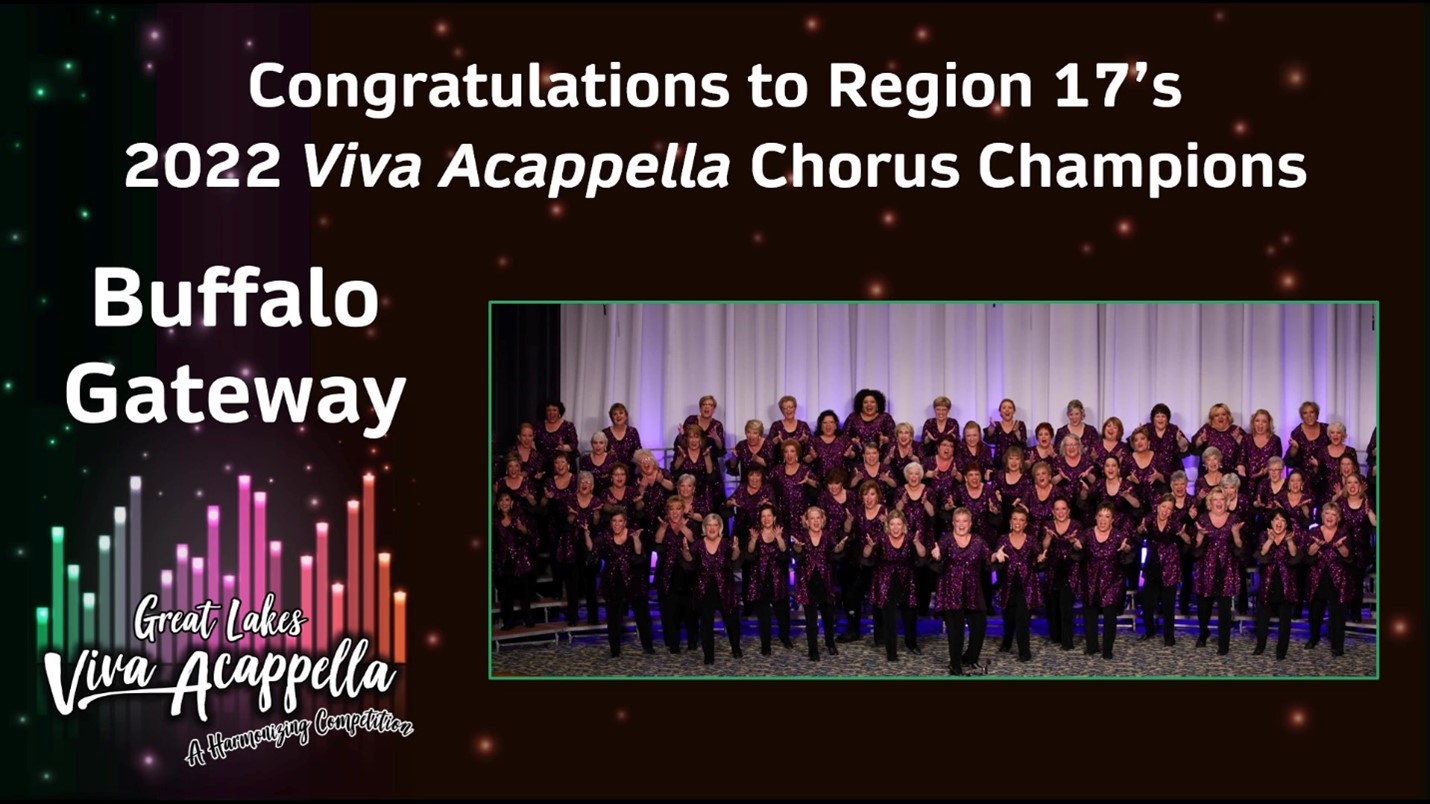 After all the losses suffered in the last two years, Buffalo Gateway Chorus is thrilled to have so much to celebrate, and we look forward being with all our Sweet Adeline friends again in Louisville!
Written by Andrea Thorne-Percy on behalf of Buffalo Gateway Chorus.